<!HEADER START>
<!TITLE START>

About Harriet Bouslog

<!TITLE END> <!MUST_VIEW_SOURCE_FOR_WWW_coupon>
<!HEADER END> <!******* 1 TAB NAVIGATION START******>
<!#43START>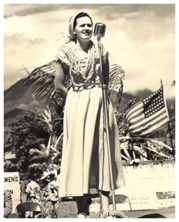 Meet Harriet
Out of the gloomy crowd of plantation workers and their families comes a shout "There she is -- Bouslog!" Heads snap and the crowd parts as a startling woman makes her way to the platform. She climbs the podium and faces the crowd. "Brothers and and sisters," she opens in a loud and confident voice. The crowd is immediately silent -- tired women who have been up since before dawn, unschooled men who have never before heard any lawyer speak, much less one beautiful, and female, and calling herself their sister. -Called From Within: Early Women Lawyers of Hawai'i
Legacy of Leadership
Harriet Bouslog played a big role in moving Hawaii from a near-feudal society dominated by powerful landowners to a fair and democratic state. She was "a feisty advocate for ILWULocal142 strikers and other working people at a time when it was unpopular and unpolitic." (Honolulu Advertiser). She was honored for her career and her courage by the YWCA in 1987.
Harriet's defense of labor at a critical time made a tremendous difference in terms of Hawaii's labor relations policy. She was the first female labor and civil rights lawyer in Hawaii hired by a "Big Five" law firm, and then went on to challenge their authority by fighting for improved industrial relations and better treatment of workers.
"What she did laid the model for subsequent actions in civil liberties and self-determination. She had the kind of creative intellect that led her to interpret the law very differently."
Spirited and flamboyant, she was disbarred by the territorial bar, at the time largely comprising corporate counsels for the Big Five, for remarks that allegedly disparaged the court system. Lawyers for unpopular causes, they said, did not have the right of free speech. Harriet appealed all the way to the U.S. Supreme Court and won, setting legal precedent still in place today.
Throughout her long career Harriet never wavered from her belief in the Constitution and the Bill of Rights as the cornerstones of American democracy, and that everyone -- even those who could not pay -- deserved legal representation in upholding these rights. "She took on the power of the Big Five -- that is what was so magnificent about what this woman did," said Ah Quon McElrath, retired ILWULocal142 social worker. "She stuck to her guns in the interests of the working people, of civil liberties, basically of the underdog … at a time when very few establishment attorneys would."
Timeline
1912 Born in Maxwell, Florida
1916 Family moves to Indiana
1936 Graduates with LL.B. degree from the University of Indiana the only woman in her class
1936 Marries Charles Bouslog, a graduate student in English, and moves to Massachusetts, where she gains admission to the bar
1939 Moves to Hawai'i, when Charles becomes an English instructor at the University of Hawai'i
1941 Works for Stanley, Vitousek, Pratt, and Winn while preparing for the Hawai'i Bar, which she passes in December
1942 Leaves Hawai'i for Washington, D.C., partially in response to the imposition of Martial Law
1942-46 Works for the National War Labor Board, meets Harry Bridges, and goes to work for the ILWULocal142
1946 Returns to Hawai'i in September as a lawyer for the ILWULocal142, to defend workers arrested during the 1946 sugar strike; soon establishes a law partnership with Myer Symonds
1948 The Wilder Murder
1950 Harriet and Charles Bouslog divorce; Harriet marries Stephen T. Sawyer
1952 The "Hawai'i Seven" Smith Act Trial
1957 In re Sawyer
1978 Dissolution of Bouslog and Symonds
1998 Harriet passes away at age 85
<!#43END>
<!******* 2 TAB NAVIGATION START******>
Back to the top
<!#70FORMSTART>
<!#70FORMEND>
<!******* 3 TAB NAVIGATION START******>
Back to the top
ref no:36386
<!#999SPACERStart>
<!#999SPACEREnd>
<!#999SPACERStart>
<!#999SPACEREnd>
Please send questions about this website to
webmaster